Classic Painted In-frame Kitchen
The owners of this large open plan kitchen love to entertain and wanted this to be their forever kitchen, so we had to get it right. They wanted a classic style of kitchen to complement their Victorian home in Alton and their utility room needed to correspond with the kitchen and be finished in the same colour scheme.
The new kitchen had to have separate coolers for red and white wine, three ovens and they wanted an alternative to a conventional extractor over the island.
A 1909 classic painted in-frame kitchen was chosen which has a timeless quintessentially British feel.
As soon as the old kitchen was removed, we delivered and installed our temporary kitchen (complete with induction hob, tabletop oven, sink and boiling water tap) this eased the burden of being without the family kitchen.
We had to make sure the new layout considered the chimney breast, so we made a subtle feature of this area, by fitting a full height splashback and introducing small LED spotlights.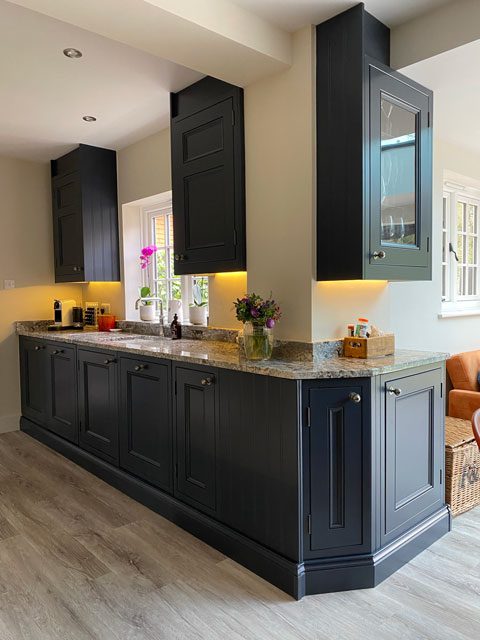 The kitchen entrance door blocked the view of the room when open, which the client wanted to change. We suggested re-working the whole wall to accommodate a pocket door system using the original door.
The door handles and false butt hinges fitted give that classic feel. Warm white LED lighting under every wall unit gives accent and task lighting, while the splayed units in the walkway soften the division of the two zones. To help accomplish the social feel of this family space, we designed a breakfast bar to run along two perpendicular edges of the island.
As always, we had a few issues to over come during installation, namely previous poor electrical work that needed a complete overhaul, including the garden feature lighting!
Two different floor structures, which were resolved seamlessly by our flooring expert. Raw material shortages meant some components suffered elongated lead times, we handed the near complete kitchen over to the client and returned to fit these final touches in a single visit to reduce inconvenience to the family.
As part of the design and installation we sourced and supplied a top of the range Neff N90 dishwasher, ovens and fridge, BORA Pure combined cooktop and extractor and a Quooker Classic Square boiling water tap.
"We have just had our kitchen designed and fitted by Kubo. We are thrilled with the finished result and were very happy with the work that was done. There were a few challenges along the way but the Kubo team were able to sort out all these issues with great care and professionalism. A great service and a diligent team all round thank you!"